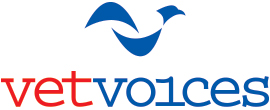 SPECIAL EVENT: VET VOICES 1ST HIGHLIGHTS PRESENTATATION • SAT SEPT 15, 2018; 1PM. Details CLICK HERE.

WELCOME CENTRAL FL MILITARY WAR VETERANS!
Have you ever been curious about Acting? Song writing? Art design? Being on stage or behind the scenes? Well, be curious no more because the "Arts Got Your 6" with an all-new, inspiring program from TheatreCares. Now is YOUR time to discover the world of Theatre Arts with Vet Voices!

Vet Voices has been 1 and 1/2 years in development and we are proud to finally launch the program for NE Polk County and all of Central FL. Come join our creative "safe space" and experience the world of Theatre today!

THE PROGRAM:
Vet Voices will provide disabled military war veterans an opportunity for positive self-awareness and self-discovery in a creative "safe space" environment. This ongoing "arts and health" program will nurture life-long healing and learning through the art of live theatre. The program will consist of workshops and events that allow veterans affected by war to explore the theatre arts and ultimately find healing through creativity. The end result will combine theatre professionals with veterans on stage in a fully produced, original musical play, developed by the veterans themselves, that incorporates creative writing, music, songs and visual art generated from the workshops. It will be presented to the Central Florida public in a continued effort to create an awareness of our war-time veterans and the health issues they deal with on a daily basis as well as how they adapt to normalizing their lives after war.

THE FUN STUFF:
Vet Voices will explore the Theatre Arts through:

Creative Workshops in all aspects of Theatre
Special Guest Artist appearances
Performances created by vets at the TWF theatre venue (3 highlight showcases and 1 main stage play)
Arts Access Pass (4 FREE tickets to every TheatreWorks Florida event)
Field Trips to outside Theatre Arts events
PARTICIPANT RECRUITMENT BEGINS:
June 2018
SESSIONS BEGINS:
Sat July 14, 2018; 1:00PM-4:00PM
LOCATION:
TheatreWorks Florida Studio, 8 W. Palmetto St., Davenport, FL 33837
TO PARTICIPATE:
The
Vet Voices
program is
free of charge
to all military veterans of war (Active, Retired, Reserve and National Guard), their families and their caregivers in the Central FL region. Join us today by clicking on the button below and filling out the
Vet Voices
Participant Information form. You will be contacted by our professional staff with updated scheduling, workshop information and start date.
GET STARTED HERE
RECRUITMENT FLYER:
Please share with your friends!
View
|
Download
RECRUITMENT MEDIA RELEASE:
View
|
Download
NATIONAL AGENCY PARTNERS:
National Endowment for The Arts, National Initiative for Arts & Health in the Military and NEA Creative Forces. Also, local veteran clinics and organizations. Of special note, The National Endowment for The Arts has awarded TheatreWorks Florida a
$10,000 grant
to support the
Vet Voices
workshop programs. Read more:
CLICK HERE
TWF KEY DESIGNERS & STAFF:
Scott A. Cook (Artistic Producer-Director), Mark S. Graham (Associate Project Director), Shannon Kropf (Music Direction), James F. Beck (Scenic & Lighting), Ty Menard (Props/Set Decoration), Mandy Brumby (Costumes), Heather Franklin (Hair & Makeup), Brad Breaux (Audio Operator), Jennifer Roman (Production Manager), Abel Gonzales (Company Manager/Military Specialist), and Alexis Senge Johnson (Development Director).
BREAKING NEWS:
•
Vet Voices
in The Ledger (6.20.18). By Paul Catala.
View
|
Download
•
Vet Voices
in Orlando Sentinel (7.12.18). By Matt Palm.
View
|
Download
•
Vet Voices
on WWRZ (7.8.18). Interview: Scott A. Cook (
TWF Artistic Producer
) and Donna Renfroe (
Host of Ft. Meade Focus
).
PLAY RADIO INTERVIEW HERE
DONATE TO VET VOICES!
Scott A. Cook, TWF Artistic Producer, and Mark Graham, Associate Director, discuss "Vet Voices" (TheatreCares 2018) with host Tim Kirkhart for "Today's Veteran" on PGTV.
FOR MORE INFORMATION:
Please call or email Abel Gonzales:
407.340.0473 | vetvoices@theatreworksfl.org
WE SALUTE OUR MILITARY VETERANS AND ALL WHO SUPPORT THE VET VOICES INITIATIVE!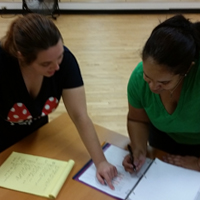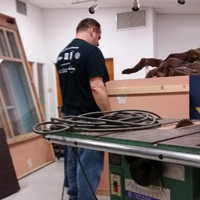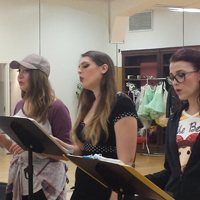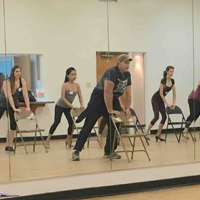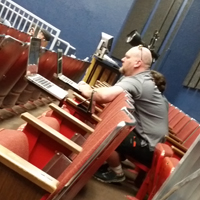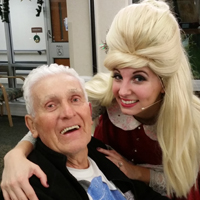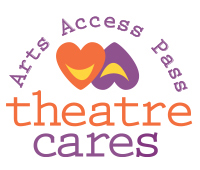 THEATRECARES ARTS ACCESS PASS (2018-19)
The purpose of the
TheatreCares Arts Access Pass
program is to make the arts accessible to everyone, regardless of their ability to pay. We strive to eliminate the financial barrier that prevents families and individuals from experiencing our theatre's vibrant and diverse live stage productions. Inclusion in the arts builds communities, inspires creativity, and increases understanding of different stories and viewpoints. In addition, exposure to the arts, early and often, builds future audiences, strengthening the economy and culture of our city.
Use your TheateCares Arts Access Pass to Reserve Free Tickets!
You can reserve up to 2 tickets per event using your TheatreCares Arts Access Pass. If your household has more than 2 members, you may be able to reserve up to 4 tickets, however, you must call and check availability of the event you wish to attend.
To reserve tickets, you must call for each event you would like to attend at least 48 hours in advance. Box office: 407.340.0473.
You may only use your TheatreCares Arts Access Pass once during the run of an event. The pass must be shown at the door for entry.
Tickets for events are limited, so you may not always get to attend the event date you choose.
Claim your tickets at least 20 minutes before the start of the event, or your tickets will be given away.
Some events are rated PG-13 or R. Check with TheatreWorks Florida to determine if the event is appropriate for your child.
If you cannot attend an event that you have reserved tickets for, it is very important to call ahead to cancel no later than 1 hour prior to your event time. If you fail to pick up reserved tickets, you will not be able to participate in TheatreCares Arts Access Pass program for the remainder of the season.
TheatreCares Arts Access Pass holders must renew their pass each year by filling out a new application.
For more information please call or email Abel Gonzales: 407.340.0473 | theatrecares@theatreworksfl.org.
Applying for TheateCares Arts Access Pass 2018-19
TheatreCares Arts Access Passes for the 2018-19 Season are limited to 10 families total. Apply early. Approved applicants will be notified by phone by August 17, 2018 at the latest to come to TheatreWorks Florida's theatre to pick up their pass. We look forward to hearing from you and hope you will continue to check back with us often.
Eligibility For TheatreCares Arts Access Pass
Must be 18 years of age or older
Must currently reside in Davenport or Haines City, FL
Must upload proof of an active Benefits card for one of the following:

Electronic Benefits Transfer (EBT) cardholders
Medicaid recipients
Military personnel and their families
Individuals with physical disabilities
Other considerations on a case by case will be considered
Application Deadline
August 13, 2018
Apply Online
Mail In Your Application
Click on the button to download the application:
Print, fill out and return to:
TheatreWorks Florida
8 E. Cypress St.
Davenport, FL 33837
ATT: TheatreCares Arts Access Pass
Do you remember your first theatre experience?
Anyone who wants to embrace the arts should never be denied that opportunity just because they don't have enough dollars in their pocket.
We humbly ask you to support TheatreWorks Florida and TheatreCares in helping the less fortunate become enriched, empowered and transformed through the art of live theatre. Your donation today will make sure no one is left behind tomorrow. All donations are directly applied to the purchase of event tickets for the underserved in our community. Thank you for supporting the"art of changing lives" in Central FL.
WINTER WONDERETTES - WINTER 2014 - FOCUS GROUP: NURSING HOMES & ASSISTED LIVING FACILITIES
December 2014, TheatreCares mounted a production of Winter Wonderettes, a musical filled with 60s holiday classics, and toured the show to select nursing homes and assisted living facilities in the Central Florida region free of charge for the residents, their family members and staff of each location. Following every performance, audiences engaged in a 20-minute interactive educational discussion with the professional cast that explored the influence of 60s music on the growth of American Musical Theatre and inspired continued participation in the performing arts. See photos below.

Supported in part by the National Endowment for The Arts.

SCHOOLHOUSE ROCK LIVE! - FALL 2015 - FOCUS GROUP: UNDERSERVED YOUTH
Fall of 2015, TheatreCares mounted a production of the musical Schoolhouse Rock Live!, the pop culture phenomenon that taught educational topics through song, and toured the show to select community centers in the Central Florida region free of charge for underserved youth, their family members and staff. Following every performance, audiences engaged in a 20-minute interactive educational discussion with the professional cast that explored how the music of Schoolhouse Rock Live! could educate their minds, impact their lives and inspire continued participation in the performing arts. See photos below.

Supported in part by the National Endowment for The Arts and United Arts of Central Florida.

ROCK OF AGES - FALL 2016 - FOCUS GROUP: MUSIC STUDENTS
Fall of 2016, TheatreWorks Florida mounted the Central Florida regional premiere of "Rock of Ages", the Broadway musical phenomenon that pays tribute to the biggest rock anthems of the 1980's. This production will play for 15 performances.
In conjunction with TheatreCares, TheatreWorks Florida's highly successful outreach program, mini workshops were offered prior to select shows for music students in the surrounding Central Florida region. These workshops explored the basic building blocks of classical music and demonstrate the connection to all music, including rock and roll.
Following the workshops, students were able to attend the show for 50% off a normal ticket price. After the performance, students attended a special interactive educational discussion with the professional cast to explore how the music of "Rock of Ages" could educate their minds, impact their lives and inspire continued participation in the performing arts. See photos below.

Supported in part by the National Endowment for The Arts.
"You don't understand how great this was. One of our residents, who hasn't spoken a word in 4 years or interacted with anyone any longer, broke out clapping and saying 'You 4 girls! You 4 girls!'. My whole staff was crying with joy and amazed how this affected our residents."

"It is not everyday that an organization takes the time to meet with our residents to improve the quality of their life on an individual level. Part of our 'Quality of Life' program is to keep our residents involved in our community through special events. We are grateful for your effort in helping us meet this challenge."

"The evening was wonderful, the music perfect and the show was entertaining. This event gave us the opportunity to make happy memories for our residents and their families, and for that we are truly thankful."

"Families in attendance raved about the experience. Whether due to access or financial limitations, most had not been to a theater production of any kind as a family. The benefits of exposure to the arts is endless. When a production is done in this quality manner and is brought to an underserved neighborhood the entire community wins!"

"It is with great enthusiasm that the Garden Theatre relay its support of TheatreWorks Florida's TheatreCares program. The TheatreCares production of Schoolhouse Rock Live! this past September was a testament to the incredible difference this program is making on our community."

"Schoolhouse Rock Live! was an awesome free event… The kids had a blast and were very active in participating, not only are the kids learning the message presented, but the cast made the kids feel comfortable enough to bravely stand up in front of everyone to dance and sing."

"This program was amazing! My children were riveted from the moment they entered the studio until we got home. Not only was the music outstanding but my kids learned about the technical aspect of putting on a show and what goes into a shows production. They had no idea about the complexities of the equipment that makes everything happen and what appears to be so easy on stage, really takes a team of people working together. This program was worth its weight in gold to us!"

"My students thoroughly enjoyed the hands-on experience of operating the sound, light and video equipment as the band from 'Rock Of Ages" performed several songs from the show. For many of the students, it was their first opportunity to encounter a professional recording studio. Several of the students have begun pursuing their new interest in theater technology based on what they experienced on this field trip. Thanks so much for making it possible!"

"The Rock of Ages Experience, offered by TheatreWorks Florida and Full Sail University, was a free, unique experience offered to the Orlando community that was not available to someone like myself when I was young. It allowed my pre-teen son to experience what goes on behind the scenes both in a live, concert environment and during a televised event first-hand. This opportunity allowed him to experience the entertainment world in a way he might never have been able to. Outstanding job!"
Your message has been sent successfully! A TWF representative will respond to you ASAP.